Chasing down big targets across all formats is a tough ask in cricket. With target getting up to 300 or plus, the batsmen must have the ability to put the pressure back on the opposition, mental strength, ability to run fast which makes the opposition team frustrated.
It is a massive ask for the players to score centuries in big targets especially in ODI format. It depends upon the fitness, hit boundaries according to the situation, and make sure that the team is at the course to chase down the targets.
Here we look at the 5 players with most centuries while chasing in ODIs
Virat Kohli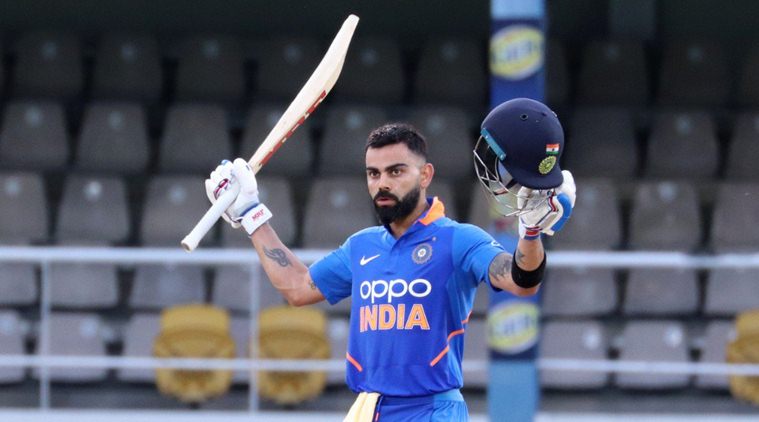 Picture Courtesy: Indian express
Virat Kohli is the best batsman in One-day international format now. He made his ODI debut on July 18, 2008, against Sri Lanka at Dambulla. His first century came against Sri Lanka at Eden Gardens, Kolkata on 24th December 2009.
Kohli has been the leading runs scorer for India in ODIs in 2010, 2011, 2012, 2013, 2014, 2016, 2017, 2018. Since his debut, Virat played a total of 248 matches (239 innings) with 43 centuries and 58 half-centuries. His best score remains at 183 which came against Pakistan in the 2012 Asia Cup. India was chasing down a massive target of 330. Kohli looked in brilliant touch with 183 off 148 balls with 22 fours and 1 six.
Since becoming the captain of the Indian ODI team in 2017, Kohli has performed consistently helping team India winning matches. Out of the 43 centuries he scored so far, the best batsmen in the world scored 26 centuries while chasing which shows the consistency with way, he has been the backbone of Indian batting line up.
Virat Kohli is just behind Sachin Tendulkar in terms of most centuries scored in ODIs. If he can maintain the consistency, the master blaster record of 49 centuries could be broken. He made his last century while chasing was against West Indies where he scored 114* played at Port of Spain on 14th August 2019.
2. Sachin Tendulkar 
Picture Courtesy: India Today
Known as the Master Blaster, Sachin Tendulkar entertained the crowd with genius knocks for a period of 23 years. He made his ODI debut for India on 18th November 1989 against Pakistan.
After opening with Sourav Ganguly in ODI format, Sachin Tendulkar became one of the best batsmen. He ended his ODI career with 18426 runs from 463 matches (452 innings) with 49 centuries and 96 half-centuries. Sachin also became the first batsman in ODI to score a double century. His best score in 50 over format is 200 not out against South Africa at Gwalior in 2013.
Out of the 49 centuries he hit, Sachin Tendulkar scored 11 centuries while chasing. In the 49 centuries he scored, the Indian team won 33 matches with a win percentage of 67.35 while losing just 14, 1 loss, and 1 tie. He played his last ODI for team India on 18th March 2012 during the Asia Cup game against Pakistan.
3. Rohit Sharma 
Picture Courtesy: Crictracker
Rohit Sharma is the best opener that India has produced. After being promoted to the opening slot by MS Dhoni in 2013 edition of Champions Trophy, he has completed transformed into one of the best ODI batsmen in the world now
He made his ODI debut for India on 23rd June 2007 against Ireland. Rohit Sharma has played so far 224 matches (217 innings) with 9115 runs which include record-breaking 3 double centuries. He holds the record of the highest individual score in ODIs till date.
Rohit Sharma has shown tremendous consistency as he has been leading run-getter in ODIs for India in 2015 and 2019. He was the leading run-getter in 2019 with 1490 runs from 28 matches (27 innings) with 7 centuries and 6 half-centuries which include record-breaking 5 centuries in World Cup.
The explosive opener has hit 29 centuries and 43 half-centuries so far. Out of these 29 centuries, 14 have come while chasing which shows his consistency of remaining cool under pressure. His last knock came against Australia during the 3rd ODI played at M Chinnaswamy Stadium, Bangalore on 19th January 2020. He scored 119 runs and helped India guide to a 7-wicket win.
Rohit Sharma's ability to put pressure on the opposition bowlers under pressure right from word go makes him a dangerous batsman to watch out. He struggles a little in the initial phase and has the ability to demoralize the opposition bowlers with timing and placement.
4. Chris Gayle 
Picture Courtesy: Cricket country.com
Chris Gayle became the 2nd West Indies batsmen to score 10,000 runs in One-day international format. He made his ODI debut against India on 11th September 1999.
The explosive left-handed batsman played a total of 301 matches (294 innings) and scored 10480 runs with 25 centuries and 54 half-centuries. He is one of the best batsmen to score a double century in ODIs along with Sehwag, Sachin Tendulkar, Rohit Sharma thrice, Fakhar Zaman.
His best score in ODI format was 215 against Zimbabwe in the 2015 edition of the World Cup played in Australia and New Zealand. After that, he was dropped from the West Indies squad due to poor form and fitness.
Gayle returned to the ODI squad in the home series against West Indies in 2019. He scored 135 off 129 balls and then smacked a breathtaking 162 off 97 balls which resulted in losses. The opener featured for the last time in ODIs during the last match against Afghanistan during World Cup 2019.
Out of the 25 centuries he scored, Gayle hit 11 centuries while chasing. He has been a great performer for West Indies and World Cricket with his power hitting.
5. Sanath Jayasuriya 
Picture Courtesy: Hindustan Times
Sanath Jayasuriya is fifth among the players who have scored most centuries while chasing.  He made his ODI debut for Sri Lanka against Australia on 26th December 1989.
He did a brilliant job as an opener in the ODI format for Sri Lanka. In his ODI career, Sanath played a total of 445 matches (433 innings). The opener scored 13430 runs with 28 centuries and 68 half-centuries with a career-best score of 189.
Out of the 28 centuries, he scored, Sanath hit 10 centuries while chasing. It showed the domination of the way he played in his international career. He played his last ODI match against England in 2011