The 'Universe Boss' Christopher Henry Gayle took to social media to open up his heart about his surprise exclusion from Jamaican Tallawahs for the CPL 2020. In the video that the West Indies legend posted, he was seen launching a personal attack on the Tallawahs' head coach, Ramnaresh Sarwan. Here's an account of the Gayle-Sarwan saga….
The Gayle-Sarwan Controversy: Beginning
The left-hander has expressed his wish of ending his cricket career playing for his state team of Jamaica. However, his release now virtually guarantees it happening otherwise. Tallawahs signed a 3-year contract with Gayle in the 2019 draft as a 'Marquee Player'. However, recently he was stripped off his contract to everyone's surprise. Though the 39-year old was signed by the St. Lucia Zouks in a last minute frenzy later, the opener has expressed disregard over the incidence. In a video split across four segments, Gayle is seen explaining that Sarwan wanted to take over the head-coach's job from Donovan Miller, but the Jamaican believed that it wasn't the time for his former teammate to hon these duties. And that is where, according to him, it all began.
What Gayle had to Say:
"I tell Sarwan directly: 'Sarwan, you've no experience in being a head coach, it's not an easy job'. He decided to say, 'okay, whatever you want, you are the captain, no problem, we'll leave it at that'. Not knowing that what I did was eating him out, so they made Donovan Miller the head coach." Gayle also went on to blame Sarwan for Jamaica's dismal performance in the CPL last year. He criticized Sarwan for how he encouraged other foreign players against him, how he allowed them to make mockery of the mighty Jamaican and how he marred the atmosphere in the dressing room. "The only thing left was just to get physical and it almost happened. I had to put everyone in his place, but I didn't put Sarwan in his place. I left him. Say let his conscience ride him," recalled Gayle. 
Things did not stop here, Gayle further went on to name Sarwan as "snake", "vindictive", "despicable" and "worse than coronavirus". He recalled how Sarwan had always troubled right through their U-19 days and that forgiving him did not mean forgetting what he had done back then. "You are still immature, still stabbing people in the back. You are still carrying news. When you gonna change, Sarwan, seriously? When are you planning to change?" Gayle also explained how he felt the whole incident also involved a political angle before saying, "I am done with you".
Sarwan's reply:
Ramnaresh Sarwan on the other hand, expressed utter disbelief and condemned Gayle's allegations. In a facebook post, Sarwan said he was shocked to hear them from his former teammate whom he has respected throughout his career. "I have always respected him as an extraordinary talent, a colleague and most importantly, a close friend. Hence, my utter shock by these scandalous allegations. He was welcomed in and is loved by my immediate family and has hurt them terribly."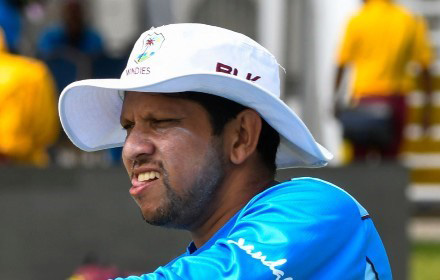 Sarwan also tried to make Gayle remember how he has previously stood up for him even on occasions when the entire fraternity was against him. He rubbished Gayle's accusations of what happened 24 years ago during the U19 days as "total fabrication". Talking about the franchise, the Tallawahs' coach said, "In 2019, I was appointed head coach. I reached out to Chris and discussed with him the selection of a team. I did so out of respect for him. In my conversation with Gayle about the team, he informed me that Donovan Miller, a Jamaican and a very close friend of Chris, should be appointed head coach as he would better understand the culture of the Jamaican players. I conveyed Gayle's view to the CEO, informing the CEO that I would be happy to step aside for Miller's appointment, given that Chris feels strongly about his appointment. My priority was what would be in the best interest of the team. Gayle is fully aware of the background, yet he accuses me of fighting to be the head coach."
Clarifying over Gayle's criticism on introduction of curfews over the young player, the former Windies player said, ""I accept full responsibility for my recommendation, that the team management considers imposing a curfew on players prior to matches. I stand by that decision. And I absolutely reject Gayle's allegation that I encouraged foreign players to disrespect him, I really do not understand how he came to such a conclusion and this simply is not true." Sarwan expressed his displeasure over the entire incident and thanked everyone who supported him due course of it.
The West Indies Cricket Board meanwhile is expected to look into this matter soon. Two of its most respected veterans taking a dig at each other might pose a real threat to cricket for the island nations. It remains to be seen how they react to the entire unfolding and what holds further for Windies cricket.