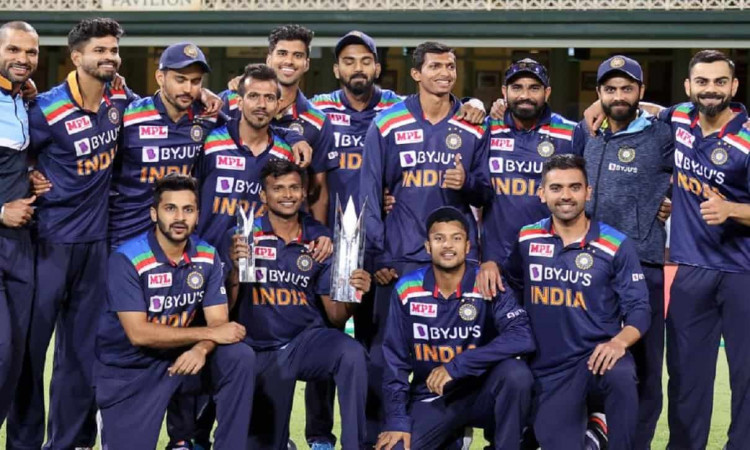 Cricket in 2020 ended with a bang and as it turns out, it also finished with the same excitement and enthusiasm. However, a highly contrasting, stressful, and fearsome atmosphere created by the COVID19 pandemic in the middle swept everyone off their feet. The world, which came to a complete standstill post-March, finally began to field some sport, starting with the UK in June. Football, cricket, and a few other sports began to be played behind closed doors, and soon, the concept of a bio-bubble was made popular across the globe. The confidence and the belief that it gave further propelled the spread of sport to multiple countries and eventually, cricket – albeit in a little restricted environment – is back full-fledged in 2021. 
While a detailed schedule for women's cricket in India is to be confirmed, the Indian men's cricket team schedule for 2021 seems to be a very busy and eventful one with games against 3 of the 4 SENA countries and the prestigious ICC T20 World Cup at home. Here's a look at what the Indian cricket's calendar for 2021 looks like:
Australia vs India – January
India's pursuit for yet another series win down under will continue in the remaining two Test matches at Sydney and Brisbane respectively. After a disastrous loss at Adeliade and a miraculous comeback at Melbourne, the Indians will be eager on leaving a mark. Also, with the ICC World Test Championship Finals around the corner, both teams will be keen on booking their ticket to Lords. 
England tour of India – February to March
India have not played a single game at home since Australia's visit in January. They were also unable to host the IPL in India and therefore, the England series will be a pleasing return for the sport in the country. England will play India in four Tests, three ODIs, and five T20Is at Chennai, Ahmedabad, and Pune.
IPL 2021 – April to May
IPL 2020 played in the foreign lands of the UAE courtesy of the pandemic. However, in 2021, BCCI is in utmost certainty of hosting the carnival at home in a safe, bio-bubble. If the rumors are to go by, one might also see a parallel full-fledged Women's IPL for the first time.
India tour of Sri Lanka and Asia Cup (June-July)
After the IPL, India will tour Sri Lanka for a three-match ODI series and five T20Is. They will then extend their campaign to play the Asia Cup with 5 other teams from the continent.
India's tour of Zimbabwe (July)
Postponed due to the COVID19 pandemic last year, Indian team will travel to Zimbabwe in 2021 to play a limited-overs series. It will be interesting to see if India experiment with their playing combination like they have in the last couple of tours to the African nation.
India's tour of England (August to September)
One of the biggest blockbuster series of the year, Indian team will play five Tests against England in August. The series will kickstart both the team's campaign in the next ICC World Test Championship.
South Africa tour of India (October)
After the tour of England, India will host South Africa in the month of October for a T20 series, ahead of the ICC T20 World Cup 2021.
q
ICC T20 World Cup 2021, India (October-November, TBA)
Indians will be fortunate to host two cricketing festivals in a single year as they will dorn the host duties for the T20 World Cup to be held in India. The Men in Blue will be desperate to lay their hands on the trophy for the first time since their win in the inaugural edition in 2007.
New Zealand tour of India (November-December)
Virat Kohli & Co. will host New Zealand for two Tests and three T20Is in November-December promising yet another exciting battle with the Kiwis
India tour of South Africa, 2021 (December)
Marking the end of the year, India will travel to South Africa for a three-match Test as well as the T20I series. The schedule will also include the traditional Boxing Day and the New-Year's Test match. It will be yet another Test of Indian record on foreign soil in recent years.
All in all, it feels great to be a cricket fan and follower in 2021. After all, all that missed in 2020 is to be backed up double and better. We only hope there are no more hindrances with the planned schedule.