Here we go again – The Indian Premier League (IPL), is set to begin its 13th season in the UAE from September 19th, 2020. After an inevitable delay due to the COVID19 pandemic, the cricketing fraternity from India and all around the world is keen on witnessing the annual T20 carnival. IPL this year is also set to have a new title sponsor, Dream 11 to grace the occasion. The league has been in and around the news for almost two months now and with all sanctions achieved, one only waits for it to commence.
Each team this season will only be allowed a total of 24 players, select support staff and only 10 net bowlers to travel along. Moreover, each player will have to undergo a strict quarantine and routine tests before training as well as due course. Having said, every single franchise, every single player and every single fan is ready to play and support his/her favorite team. Here's a series with an individual look at the capabilities, balance, strengths and weaknesses of the eight IPL teams.
Chennai Super Kings:
Chennai Super Kings is one of the most successful IPL teams of all times. The franchise has made it to the playoffs in every single season they have participated. Despite facing all flak and criticism for fielding an older team, the team also made it to the finals in the last edition. However, things are a little different this year and it is important for everyone to be fit and in form from the word go. The team has been in the news for many reasons before the tournament and will be keen on marking a statement on the field. All of it without the support of their favorite 'Yellow Army' and the 'Whistle Podu'.
Captain :
MS Dhoni is the only captain to have led a franchise in every single season of the tournament. Needless to say, one of the best captains the world has ever seen, has also produced good results in all seasons. Dhoni has the knack of getting the best out of his players. His intuitive mind is one of the toughest puzzles to crack on a cricket field. Along with the freedom and the opportunities he showers his teammates with, his influence and guidance from behind the stumps is unparalleled.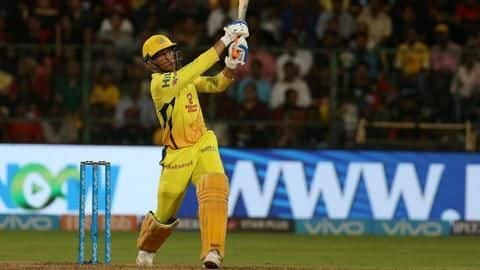 However this year, the former Indian captain will have more eyeballs on him than anytime else. After not playing cricket since the ICC World Cup Semifinal in July ;ast year, MSD announced his retirement from international cricket last month. It is also said that Dhoni is looking out for his successor in the CSK franchise as well. Therefore, Dhoni's performance both as a captain and as a player will be keenly watched. His return to cricket though, is set to bring joy on the faces of all his fans.
Best Result:
Champions, IPL 2010, 2011, 2018
Transfers and New Buys:
Chennai Super Kings retained their core group of players without altering much before the start of the season. They were one of the few teams to have opted out of the pre-season trade as well. Having had a good batting core in place, the team's strategy going into the auction was quite simple. They added a few bowling reinforcement and foreign options to support the team balance. The Australian pacer Josh Hazlewood and English all-rounder San Curran were brought by the Super Kings in the auction. The other two buys included the Karnataka off-spinner R Sai Kishore and the KKR veteran Piyush Chawla.
Now with Suresh Raina and Harbhajan Singh bowing out due to personal reasons, their replacements are awaited to be known.
Strengths, Key Players:
Chennai Super Kings last year, proved the worth of playing an old yet vastly experienced group of players. They produced a few stunning performances led by captain MS Dhoni himself. MSD was lethal throughout the tournament, reminiscent of Dhoni from his long-hair days. The season is a good chance for the skipper to promote himself up the order. And if the practice sessions are of any news to go by, one might witness fireworks from the legend this year as well. The likes of Shane Watson and Faf du Plessis at the top will play a key role while Bravo and Jadeja provide finish.
In places where conditions aid the spinners, Chennai might have a better chance. The last-year finalists have good players of slow bowling and also effective spin bowlers to go along. The likes of Jadeja, Chawla and even the youngster Sai Kishore are all capable of restricting the scorers. With foreign options available in Santner and Tahir and with Bravo's tremendous death bowling ability, the team completes a well-rounded bowling attack. Needless to say, CSK are still one of the teams to watch out for in this tournament.
Weaknesses:
Ironically the strength and weakness of Chennai Super Kings are coincidental. While the rich experience of the side is a big plus to have, their age and fitness remains a concern. Chennai's biggest concern will be the health and hygiene of the players, especially after what has happened. The heat, humidity and the elongated IPL schedule is a test to the 32 years average aged squad,, making it imperative for the management to use resources well. Most players have not had any competitive cricket exposure in recent times. The team is full of proven match-winners but it is important to fire together as a group. It also remains to be seen who CSK will turn to, to take Suresh Raina's place in the middle order.
Expectations:
Chennai Super Kings is sure to miss the services of their veterans but still have enough fuel to pump their tank. The experienced are worth trusting upon with responsibilities and if all goes to plan, MS Dhoni might once again inspire his team to the playoffs. Having said, this season is sure to be the toughest challenge Chennai have ever faced in their 10 years of cricket.
Chennai Super Kings Squad:
MS Dhoni, Kedar Jadhav, Ravindra Jadeja, Piyush Chawla, Dwayne Bravo, Sam Curran, Karn Sharma, Shane Watson. Shardul Thakur, Ambati Rayudu, Murali Vijay, Josh Hazlewood, Francois Du Plessis. Imran Tahir, Deepak Chahar, Lungi Ngidi, Mitchell Santner, KM Asif, Narayan Jagadeesan. Monu Kumar, Ruturaj Gaikwad, R. Sai Kishore
ICN360's Best Possible Chennai XI:
MS Dhoni (c), Shane Watson, Faf du Plessis, Ambati Rayudu, Kedar Jadhav, Ravindra Jadeja. Shardul Thakur, Dwayne Bravo, Deepak Chahar, Piyush Chawla / Karn Sharma, Lungi Ngidi/Mitchell Santner.
Have a look at other IPL Teams :
Delhi Capitals, Rajasthan Royals, Kings XI Punjab, Kolkata Knight Riders, Sunrisers Hyderabad