Suresh Raina, the flamboyant left-hander, who also matured as an all-rounder through his career, bid international cricket adieu on Saturday. Raina who last featured in the ODI series vs England in 2018 ended his 15 year international career along with his captain and dear friend MS Dhoni. It would only be unfair to not celebrate the illustrious success of India's most dependable middle order support.
Early Days
Suresh Raina first blasted into the scenes in the 2004 U19 World Cup. He helped India put up a fighting total against West Indies and attracted eyeballs of the selectors. He was roped into the Indian team for ODIs against Sri Lanka at a tender age of 19. His impressive performance with the bat and exuberance in the field soon made him a constant feature. He was included in India's T20 debut side against South Africa a year later but took him five long years for a maiden Test call-up.
Suresh Raina was the first Indian to score a century in all three formats of the sport. He achieved the feat in his debut Test match where Raina also became the 12th Indian to score a century on Test debut. Due process he also shared a mammoth double century partnership with the master blaster, Sachin Tendulkar. His T20 hundred also came the same year against South Africa at the 2010 T20 World Cup in the Caribbean. Coming in to bat in the first over, Raina played the situation well, scored runs at brisk place and finished the innings with mighty long hits helping India reach a safe total. His hundred came off mere 60 deliveries becoming the first Indian to ever score a T20 hundred. Raina's also includes 5 crucial ODI hundreds to go along with his 48 international fifties.
Coming off age, as a middle order batsman
More than numbers, it was also about the stability that Raina brought into the team. Batting in the middle order, he possessed the ability to score big as well as anchor the innings if needed. Raina has as many as 12 Man of the Match awards to his name in ODIs. Only 10 other players have enjoyed more success than the Indian southpaw. He had the patience, skill, a gift of timing and more importantly great judgement of the situation. He picked gaps unusually and played well with the minds of opposition captains and the bowlers. Inside out over covers and extra covers, straight hits dancing down the pitch and magnificent drives on the on side remained the highlight of Raina's batting throughout. Rarely did one see him play rash strokes even in his bad days with the bat.
Raina was a part of India's winning campaign in both the ICC ODI World Cup 2011 and the ICC Champions Trophy 2013. He was also a part of the squad in India's knockout loses in the ICC Cricket World Cup 2015 and T20 World Cup 2014 and 2016. Raina wasn't known for big scores in ICC tournaments but was often the finisher India loved to have. In World Cups, Raina averages in excess of 50. In the tight and intense last over finish against Australia in the 2011 World Cup, the world remembers Yuvraj Singh's blistering fifty but it was the Uttar Pradesh left-hander who lent him a stable support. He scored 34 with SR in excess of 100 but importantly, wasted no time getting runs and releasing pressure off Yuvraj. His crucial half century with the bat also helped India reach a safe target against Pakistan in the semifinal.
Suresh Raina: An all-rounder in true sense
Suresh Raina was a revolution on the field. He was one of the quickest fielders and the safest pair of hands India has ever had. Be it in the 30-yard circle or in the outfield, he had a sound technique and a fearless and aggressive approach. His energy and love for the sport also rubbed shoulders with others in the team. Jonty Rhodes, the mighty South African who is also regarded as the Best Fielder world ever produced named Suresh Raina as the best in international cricket in the modern era.
Till the time Raina was a part, he put the needs of the team first. Every time he stepped on the field, he made sure to bring his A-game onto the fore. One also saw him bowl crucial overs with the ball. Raina was slow yet extremely effective with the ball. With time, he also grew to be India's dependable 6th bowling option.
It was perhaps this all-round ability that also earned Raina the Indian limited overs vice-captaincy post the 2011 World Cup. He was also India's captain in times when MS Dhoni was rested. His calmness and composure as a leader in India's lowest total defense against Bangladesh is a sight to savour.
Injuries and Struggles: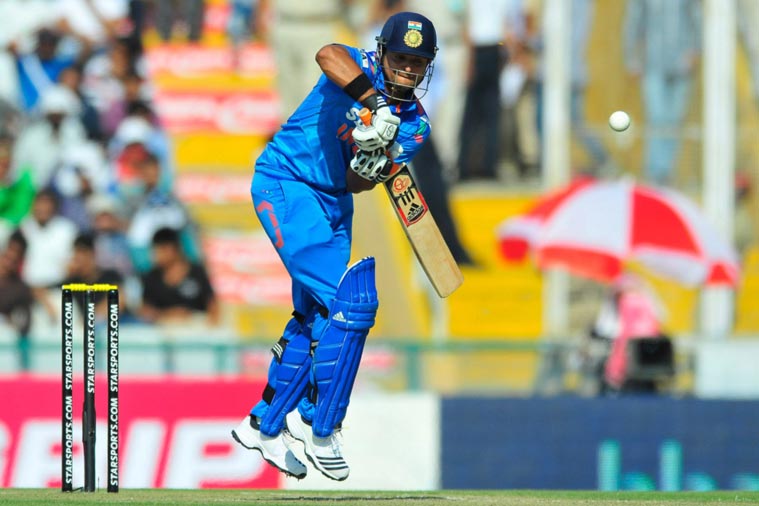 Suresh Raina had his own set of injuries and struggles throughout his international career. Especially in the later half, he suffered a few injuries and was forced to sit out of cricket. His form also went through a topsy-turvy ride during the time. Moreover, his vulnerability to the short ball was evident and bowlers targeted the same more often than not. It is perhaps one of those reasons why Raina retired at a relatively young age of 33. With India's current team's changing needs for maintaining team balance and structure, Raina's presence also seemed difficult to fit in.
Raina and his camaraderie with MS Dhoni:
Mahindra Singh Dhoni and Suresh Raina were two peas in the same pod. They both shared a great relation and were part of many milestone partnerships on the field. Be it for the Indian cricket team or the Chennai Super Kings in the IPL, Thala and Chinna Thala as they are called have always seemed to have each other's back. They both began their careers at almost the same time and the bond only grew with time. So much so that both of them decided to declare their retirement on the same day.
"We had already made up our minds to retire on Saturday (August 15). Dhoni's jersey number is 7 and mine is 3 – put it together and it makes 73. And on August 15, India completed 73 years of independence, so there couldn't have been a better day," "After announcing our retirement, we hugged and cried a lot. I, Piyush, Ambati Rayudu, Kedar Jadhav and Karn sat together after that, and talked about our careers and our relationship. We partied during the night." added Suresh Raina.
India has indeed lost out on two of its brightest international talents in a day. But having said that, the two only deserve more recognition and their eventful careers only deserves more celebration. The memories they gave us fans are only meant to stay. Thank you!!