The Indian contingent of late has managed to pull off miracles, winning overseas from the worst of situations. But despite its stupendous run, India has failed to cap it with a world title. Across formats, India has reached and lost in as many as 10 decisive games on the trot in World Cups. Unfair to blame a single individual, team India as a collective, has bottled up in situations that it ideally would cruise through.
Ironically, even with all the available options in the team, and on the bench, India's looked out of options when it mattered. In pursuit of specialist batters and bowlers, the term 'all-rounders' in the Indian team has taken a strong hit. Hardik Pandya's absence with the ball in the last year and a half has highlighted the void even further. The likes of Shivam Dube, Washington Sundar, and others have been given chances, but none has worked so far.  Jadeja's sole candidature for the role has thereby put immense pressure on the team management to attain the balance.
Playing Pandya as a batsman, not only takes away India's sole chance to experiment with a No. 6 but also leaves behind an elongated tail to wag. Moreover, if the recent press conferences are any hint to go by, it's not the most assuring either. On the other hand, the inclusion of Shardul Thakur in the main squad and that of Venkatesh Iyer in the preparation setup is suggestive of India's quest for a hard-hitting all-rounder.
"Hardik hasn't started bowling, but he should be ready any time during the tournament. In a big tournament like this, you always want to make sure that a player is 100% fit. Hopefully, he will start bowling soon."

–Rohit Sharma in a recent interview.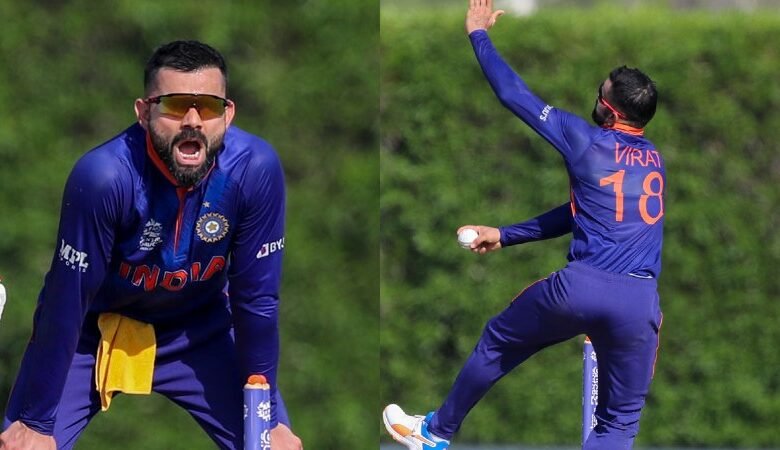 The surprise introduction of Virat Kohli in the bowling attack during the practice match against Australia the other day, therefore, explains itself. Going into the T20 World Cup next week, India would want to explore the sixth bowler – coming from either Virat Kohli, Rohit Sharma, or Suryakumar Yadav. Though not the most viable choices under pressure, situations could well demand experiments. Kohli himself was part of one such experiment when he bowled in a World Cup game against West Indies in the 2016 T20 World Cup Semi-Finals at Mumbai.  Though India eventually went on to lose the game, Kohli was rewarded with a wicket on the first ball of his decent 2-over spell. He played an able cover to Ashwin and Jadeja who struggled to find a rhythm that game.
It's not the most unprecedented thing to think of. One has witnessed MS Dhoni trust absolutely random personnel with the ball, a few not quite to the mark but a few turned into worthy assets. The emergence of Yuvraj Singh, Suresh Raina, Kedar Jadhav, and others can be credited to India's will to try out variations with the ball. Perhaps under his mentoring this T20 World Cup, it could well be a kickstart to one such fairytale, dare I say for one of Rohit Sharma or Virat Kohli.
The sixth bowler is likely to solve India's concern with the No, 6 as well. Finding one from within would allow them to afford to play an extra batter in the side, not worrying about the elongated tail. Rest assured, for India to go deep and succeed in the T20 World Cup, the sixth bowling conundrum needs to be resolved.